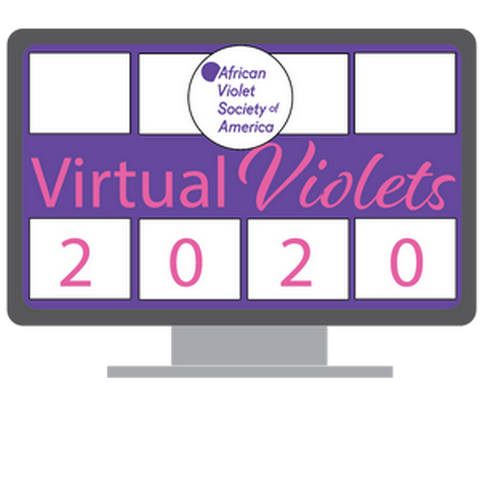 AVSA was proud to bring the African violet world together this week at the 2020 AVSA Virtual Violets Convention. There were many things going on behind the scenes which we want to share before you leave.
Message from Convention/Show Chair Susan Anderson

"AVSA needs a virtual show!" That was my thought as the news of one violet show after another was canceling earlier this year.

The Virtual Violets Convention is the result of many long hours of teamwork and collaboration. In less than eight weeks, an entirely new website was built, videos were recorded, photos were collected, a show process defined, and the 'virtual convention experience' was created. Virtual Violets has accomplished its goal of providing members with a way to unite and share their passion of growing and showing African violets. It is bringing huge amounts of joy to people during a worrisome time. I am thrilled to see AVSA's members connecting around the world.

A special thank you, to Mary Corondan, for envisioning a full convention experience, complete with programs and prizes. Thank you, Tom Glembocki and Candace Baldwin, for finding just the right tools to build this website and for having the patience to teach the rest of us. And thank you, Joyce Stork, for ensuring a pleasant user experience with every event and leading the marketing and promotion activities. This virtual convention would not have happened without the dedication, perseverance, creativity, and enthusiasm of the following AVSA members. Thank you all for making "virtual" REAL!
Message from Convention/Show Co-Chair Mary Corondan

It has been a pleasure working with such a dedicated group of violet enthusiasts to present the first AVSA virtual convention. This experience came with a huge learning curve for us all as we were navigating uncharted waters. None of this would have been possible without the technology expertise of Tom Glembocki and Candace Baldwin. Joyce Stork was instrumental in providing the marketing tools to promote this event, and Susan Anderson's leadership abilities led us to an excellent finished product. Our goals were exceeded for the number of exhibits and exhibitors by the overwhelming participation of the membership. It is extremely encouraging to see violet growers from across the globe coming together to enjoy beautiful violets and learn from educational presentations made by expert growers. Violets truly unite us internationally.

AVSA 2020 Virtual Violets Convention Committees
Virtual-Violet-Committee-Members-Page-1

2020-Virtual-Violet-Committees-page-2-2