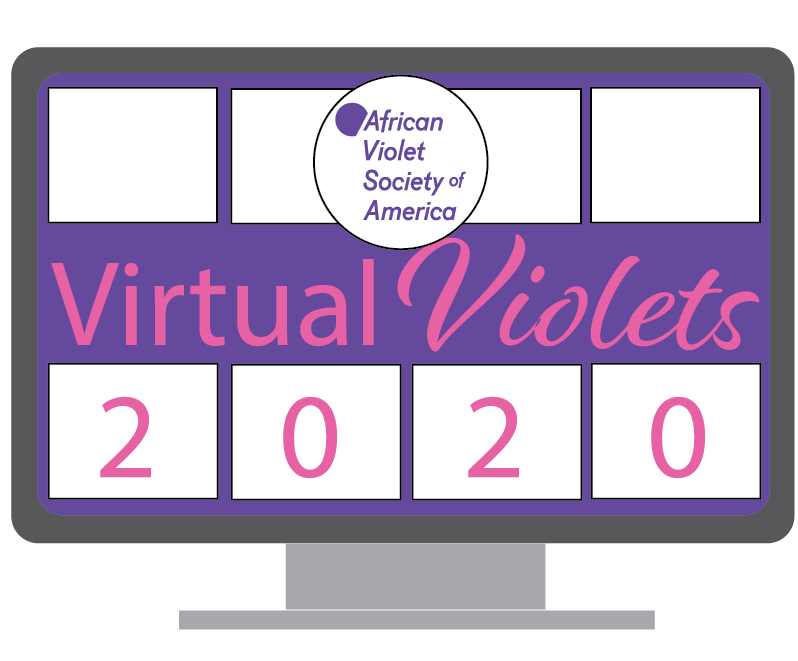 ---
CONVENTION SPECIAL OFFERS!

order before june 2, 2020. supplies limited!
Buy the 2020 AVSA Virtual Convention Souvenir Pin!

2020 is a unique year and a unique convention. This enamel lapel pin with the virtual convention logo will be a rare addition to your pin collection!

Only $5 and Shipping is Free!
Join AVSA in May and Choose a Bonus Gift!

Bonus Calendar or Magazine!

This month only, new members may select a 2020 AVSA Calendar ~OR~ a previous issue of the African Violet Magazine!

Membership includes 6 issues of the magazine and member privileges.

To claim your bonus, specify "calendar" or "back issue" in the COMMENTS box at Checkout.
---
On behalf of the AVSA Board of Directors and your Executive Committee, it is my pleasure to welcome you to the 2020 AVSA Virtual Convention Event: "Virtual Violets 2020". As you are well aware by now our 2020 Annual Convention in Little Rock, Arkansas was cancelled due to the COVID-19 pandemic. In addition local and regional shows were cancelled. Our African violets and other gesneriads were "all dressed up with no place to go". Thank you to Susan Anderson, Mary Corondan, Candace Baldwin, Tom Glembocki, Joyce Stork and others who were thinking "outside the box" so we could offer you a virtual convention experience this year.
May 25 to June 1 is National African Violet Week! What better way to celebrate this event this year (the year of social distancing) than to have a virtual convention experience! Many events are planned for this week including 2020 New Introductions from major hybridizers, the Virtual AVSA Show Room, Virtual AVSA Sales Room, Educational Presentations and more!
Starting on May 7th, enter photographs of your outstanding African violets, gesneriads, and designs. As this is not a judged African violet show, generously donated raffle prizes will be drawn in lieu of awards. We look forward to seeing your entries and we hope this virtual event will continue to connect us through our African violets.
We hope you enjoy this virtual event.
Sue Ramser
President
AVSA